Special Eats Special Team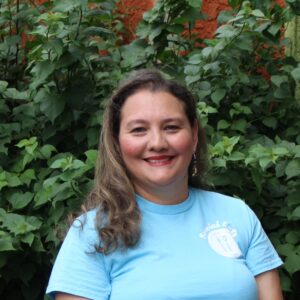 Tamara Varga, Owner
Tamara, has worked in the disability field for 10 years, working as a Division of Developmental Disabilites (DDD) support coordinator. She is currently the Director of the Group Supported Employment Program at Tucson Community Connections. a licensed fiduciary for individuals with special needs, and a caretaker. Tamara is truly dedicated, believes in what she does, and lives it each and every day. Tamara has 3 children, a son with autism, a daughter with selective mutism, and a son with Down syndrome. Her passion for employing individuals with special needs stems from wanting to create an environment she would be proud and blessed to have her children work in. Additionally, she and her talented husband Jeff oversee a foster home for individuals with special needs. For many years, folks of all ages have enjoyed the warmth, safety, and delightful hospitality found in their home. We who are blessed to work with her truly believe she is the best boss in Tucson.
William Harman, Owner/Chef
William has been a chef for 20 years. He has helped open multiple restaurants. He has traveled the world cooking in different kitchens. His food has been featured on multiple shows on the Food Network. William has a daughter with autism and loved the idea of starting a food truck that benefits the special needs community. He felt it was very important to have gourmet quality food to go with our special mission.
Jeffrey Varga, Owner
Jeffrey has worked with individuals with disabilities for 16 years. Additionally, he has worked many years in the food industry, hitting the ground running in his first job as a 16-year-old working for Eegees. He hasn't slowed down since. Jeff is now a top-notch, licensed contractor, the "go-to" guy to which all other "go-to" guys go... to. With his wide body of knowledge in all facets of construction and his quest for turning out the highest quality work, Jeff is uniquely qualifed for, and takes great pride in, training individuals with disabilities for gainful employment in the construction industry. He oversees our 16-year-old training program, helping teens learn the job skills that will carry them through productive and rewarding careers. Jeff is the proud father of three special needs children and oversees an adult foster care home with his lovely wife Tamara.
WE PROUDLY PRESENT OUR
SPECIAL EATS SPECIAL TEAM:
Daniel works on our marketing and custodial teams. He helps keep our Instagram up to date with our newest pictures. He also helps keep our truck looking perfect.

John has autism, but that doesn't stop him from being a top-notch food prepper on the food truck, preparing bread for grilling and cutting sandwiches. 

Kari has autism, and is gifted with numbers. She is in charge of our dry goods and food inventory, helping to keep our truck stocked so you can enjoy some of the best grilled-cheese around.

He has autism, but that doesn't stop him from being your amazing cashier. Vincent is in our training program for 16-year-olds, and this is his first job. He says he loves having a job. Come out and get to know Vincent as he works the register at our many, delightful events. 

Ben is one of our artists, a true gem. Ben designs, draws and creates unique and beautiful artwork.  We are proud that Ben has chosen Special Eats as a creative outlet his passion. Look for Ben's artwork on our "to-go" bags at our awesome cheese events. Get yours while you can.

She is in charge of handing out the munchies and drinks with your grilled cheese. She also sells our merchandise. She has fetal alcohol syndrome, but that doesn't stop her from living her best life. Come and get some food and merchandise from Sarah and one of our events.

He is our food truck greeter. Cecil has autism, but that doesn't stop him from talking to everyone he meets. Cecil is a person you will surely come back to see. He will probably talk you into buying a shirt too.

He has Down syndrome excels at giving high fives while helping make our merchandise. Jesse loves to make specialty baskets that we sell in front of our food truck or at our office.

He has autism, so that makes him very detailed at cleaning our truck and landscaping at our office. He prides himself on the detail he puts into making our truck and landscaping beautiful.

She is part of our janitorial crew at our office and commissary. She has Down syndrome, but there is nothing down about her. She loves to sing while cleaning and loves to give hugs.

He has Down syndrome and loves to help make our Down syndrome and autism merchandise collection. Jamie likes to help make bracelets and keychains for our merchandise line.

He is in charge of helping prep the food for our food truck. He has autism and says this is his favorite job. He loves knowing he is helping bring delicious food to the community.

Sharon is part of our jewelry-making crew for our merchandise. She also likes to help with cashiering while selling our merchandise. She says she loves her job, and it doesn't feel like a job. It feels like a family.
She has selective mutism, but that didn't stop her from finding a job that is perfect for her. Jaymi helps make our merchandise. She loves to help make our t-shirts and jewelry. She also helps with our shopping for the food truck and merchandise.

He has Down syndrome but loves working. Robert helps in our merchandising department. He puts together baskets and jewelry.

He has autism and is in our first job training program. Alex helps run the orders and assists in the setup and takedown of the food truck.

He has autism, and that makes him very detailed. Jesus is on our food truck team. He helps prep the food and is one of our sous chef's for lunch events.

 

Brenda is our resident horse lover. She has a horse she calls Monti who is more of a friend to her than anything else. It would be difficult to describe the wonderful gifts with which Brenda has been blessed. We at Special Eats have yet to determine if there is any limit to those gifts. Brenda works with the food truck, enjoys setting up inventory in the store, and has proven to be quite a computer wiz while working with Special Eats websites and social media. 

 

Cheryl is the loving mother type to us all. She is a part of our merchandising and art team. Perpetually happy, and a bit feisty, she does it just like mama used to. Special Eats is proud to work with her. 

Karen is another multi-talented hand here at Special Eats. You name it, she'll get it done and there is nothing that she won't do with the maximum amount of enthusiasm and love. Karen especially enjoys training other folks in procedures, turning out true pros and helping us all recognize our true potential. She is a valuable asset to Special Eats. 

 

Cassandra is a wonderful mother of 2 who has worked hard all of her life, continues to do so, and has never been afraid to do so. Cassandra is an all-around hand who can do it all. She enjoys working on the food truck and has always specialized in the creation of beautiful, one-of-a-kind jewelry. Special Eats is looking forward to the ideas and creations she'll bring to our merchandising department.

You would be hard-pressed to find a more wonderful smile than that of this wonderful, young woman. She has an approach to and zeal for life that is huge, HUGE. Christina works with us in our merchandising and artistic endeavors, bringing in huge amounts of imagination, and talent. She enjoys our almost daily yoga workouts and especially the beadwork we do here. It is so fun to have her with us a Special Eats. 

Sharon is that special and rare soul with a quick wit and a quicker smile. Sharon is a shopper, that is, a hard-core shopper. There's none of that "stopping off for a few minutes" kind of stuff in her life. It comes in handy here at Special Eats as we are in constant need of many different kinds of supplies, crafts, and other support. 

What can you say about Sonia that isn't just simply awesome? Sonia keeps going and going until it gets done, and you can bet it will always get done.  Along the way she adds her own bit of special talent, turning out wonderful work for our merchandising and artistic work here at Special Eats.

Alex joined Special Eats in support of the Special Eats food truck. Alex is our resident guru, possessing an endless supply of information on a variety of different subjects and is always willing to share what he knows. Alex enjoys a challenging work environment and we at Special Eats work hard to ensure that Alex feels he has found a home here.
Our Job Coaches and Support Staff:
Job Coaches provide the tools and a safe environment necessary for individuals with special needs to explore their world, identify their potential, and use that potential as a stepping stone to greater possibilities. Job Coaches working in such a fast-paced environment must be incredibly confident while, at the same time, incredibly humble, resisting any urge to "supervise" or jump in and do it all. Altogether, our management team and job coaches bring over 120 years of combined experience in special needs training to Special Eats/Baskets Made with Love.
She is the creative director for Special Eats. Together with her son, who has Down syndrome, Sonia draws upon an infinite pool of imagination and talent, creating all types of one-of- kind, fabulous merchandise, unique gift baskets, and custom jewelry. If you have an idea, Sonia can bring it to life. She is truly talented, and we are fortunate she has chosen Special Eats to showcase those incredible talents.

Natalie is the person who, when life hands her lemons, will serve up the lemonade, a thick, juicy steak with all the trimmings, and the most exquisite Pinot Noir. An upbeat and positive young woman, Natalie strives to help folks find the best version of themselves. We at Special Eats have found that she's very good at that. With her infinite pool of patience and love,  Natalie brings a special talent to Special Eats and we are thrilled to have her with us. 

 Zidane, you can call me "Z", is an awesome young man that comes from a fine family rich in tradition. Z credits his father for giving him the tools he needs to be the highly successful, truly motivated powerhouse he has become. 

 

An avid soccer fan, Abraham brings a unique brand of leadership to Special Eats, developed internationally through years of experience on the pitch as player, team captain, and coach. An easy-going, open-minded friend to all, Abraham has also worked as a project manager for the Community Home Repair Project of Arizona (CHRPA), a wonderful non-profit agency dedicated to assisting low-income homeowners. His perspective and ingenuity are invaluable to Special Eats.

 

Kristina is the disciplined, strong, silent type. Kristina is the one job coach most likely to be heard saying, "No, 2 slices of pizza covered in ice cream and chocolate cake is not a food group." Together with her husband and 2 children, she has opened her home up for the care of a  wonderful individual with special needs. A warm, wonderful person herself, her vast knowledge and discipline are highly appreciated by the Special Eats team.

If there was a special team dedicated exclusively to support of the Special Eats Special Team it would be Melita. Having over 7 years of experience helping folks with special needs, Melita is a multi-talented, one-woman support system who knows and loves each and every one of us here at Special Eats as one of her own. She brings a unique perspective to our mission here and we are proud to call her one of OUR own.
Peter is a job coach for our lunch time food truck crew. He is also the perfect facilities maintenance guru. You can bet that the job will always be straight, true, properly plumbed and expertly executed. Peter with his eternal smile brings out the best in all of us, along with a bit of mischievousness.

 

Jordan brings to Special Eats one of the best customer service personalities in the business. His skills are simply… AWESOME! Jordan came to Special Eats seeking a fantastic work environment, a work environment with purpose. Jordan enjoys the opportunity offered by Special Eats to be in such an environment while helping create a space where people can be themselves. Special Eats welcomes Jordan with his seemingly endless patience along with his ability to get the job done, and get it done right.

Laurie, who works with our custodial team as a facilities manager, has been in the disability field for 15 years. Extremely creative, detail orientated, and eternally happy, Laurie and has never met a room that she could not clean, fix, decorate, brighten up, or otherwise embellish with white glove precision. She brings out the best in all of us and our wonderful facilities. We are proud to have her aboard.

Elaine is more than our assistant director and the best bookkeeper this side of Heaven.  Elaine keeps everything running smoothly in matters of regulatory compliance, payroll, bookkeeping and Human Resources. Give Elaine 2 columns of numbers or a tough compliance issue and she's ready to rock-and-roll. She is the glue that quietly holds it all together. Elaine has a nephew with autism and she is indispensable to Special Eats.

Dale is the grumpy, old man of the bunch. He can be found hunched over the computer in an office somewhere grumbling and updating websites and various media. With nearly 6 years in the field, Dale enjoys the constantly moving environment and the wonderful folks that he has been blessed to work with.

Aliana is our an administrative specialist. If you've ever wondered that a person very quiet and shy could possess a contagious joy, happiness, or zest for life that radiates to all who know her, wonder no more. Aliana is the one. The Special Eats Special Team loved her immediately. Aliana, with a huge wealth of knowledge behind her, is tremendously qualified in her role at Special Eats, ensuring regulatory compliance and adherence to legal protocol. Special Eats is blessed to have her aboard.